About C20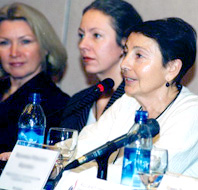 The Committee of 20 is a nonprofit organization of the most successful Russian businesswomen, who hold top positions in leading companies, have achieved their success in a comparatively short period by starting their companies from scratch and growing them into recognized industry leaders.
Mission. The Committee of 20 is dedicated to helping Russian businesswomen increase their success and be recognized as an influential power in the economic development of the country
Focus areas and objectives
Enhancement of business opportunities
Networking for business leaders
Information exchange on different aspects of business growth
Promotion and support of women entrepreneurs and corporate women
Building business partnerships and alliances both on the national and international levels
Reserach on women's role in business
Improvement of the climate for entrepreneurship and promotion of women to top corporate leadership roles
Activities and Programs
Organization of International Business Summits, conferences, round tables, workshops, and seminars on the most important business and leadership issues,
Participation in public policy and legislative processes,
Mentoring Program for growing women entrepreneurs from the regions of Russia, and Mentoring programs for corporate women
Organization of professional and public outreach networking events,
Research and publications on promoting women in business.
Educational programs for young people; participation in prominent international events, lectures and presentations on women's role in development of the Russian economy.
Major Projects
Since its establishment in 2002, The Committee 20 has organized and implemented several significant and very successful projects, including:
Major international forums and conferences with more than 500 participants;
Mentoring program for supporting women-entrepreneurs from 22 Russian regions and women managers with high leadership potential employed by large Russian and international companies;
Over 30 educational programs, lectures and training events jointly with leading national universities;
Several large-scale surveys;
Became one of the founders and General Partner of Leadership Without Borders community.
All projects were extremely successful and brought The Committee 20 well-deserved recognition in Russian and internationally.
Membership
Membership is by invitation only and includes owners and senior executives of major companies and corporations — industry leaders. The candidate should be recommended by at least two active members of the C20.