Tatyana Zrelova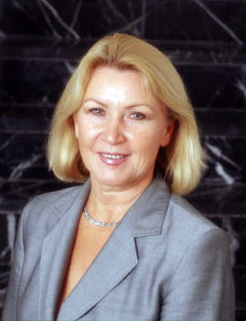 Position:
Director General, Joint Venture «Dialogue» (a holding company including more than 30 branches of different types of businesses: computer technologies and IT, electronics and office equipment, real estate and construction, manufacturing and transportation, import and trading, distribution and retailing, financial services and others).
COMPANY INFORMATION

Specialization:
The company incorporates 30 small business companies with various spheres of activity: computer business, informational technologies, construction and real estate management, import and trading, restaurant, etc.
Subsidiaries: Saint Petersburg, Ulyanovsk, Perm', Novosibirsk, Omsk, Kemerovo, Barnaul, Krasnoyarsk, Novokuznetsk, Kazan', Naberezhnyie Chelny, Izhevsk, Ufa, Yoshkar-Ola, Cheboksary, Samara, Chelyabinsk, Khabarovsk, Kiev (The Ukrain), Mogilev (Belarus), London, Prague.
Additional information: The company is committed to developing new projects generating new working places. All projects that meet the requirements of commercial expediency and are in line with ethic norms are being considered.
PERSONAL INFORMATION

Education: Graduated from the Moscow State Technical University. Ph.D. in computer science.
Career review: In 1987 after the meeting with American businessman Joseph Ritchie one of the first in Russia Joint Ventures -"Dialogue" was launched.
For 11 years Tatiana worked as deputy general director of JV «Dialogue», Board member. She was responsible for one of the most important areas: establishing contacts with Western partners and promoting their products to the Russian market, as well as import of the Russian made products to the world market. She also was involved in computer engineering and software development projects.
At present she is the general director of JV «Dialogue», she launches and develops new projects.
Participation in public organizations: National fund «Russian Business Culture», Association of Joint Ventures, the Committee of 20 member.
Family: Tatiana's family is large and united: her mother, her husband. Her daughter and her son are both married, she has four grandchildren. They spend much time in the country.
Hobbies: Mountain skiing, active leisure.