Diana Medman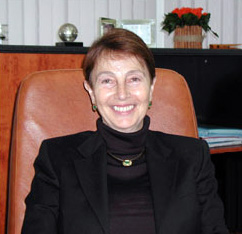 Position:
General Director, «Sputnik Systems ARKOS»;
Partner, Holding company «BIOPROCESS»
COMPANY INFORMATION

Bioprocess company was found in 1988 by several specialist in biotechnology, genetic engineering and fine chemical syntaz Kakha Bendukidze, Diana Medman and Mikhail Mogutov. The best achievement of this group was founding open stock company «OMZ-machine-building» in 1996.
In 2001 Bioprocess Group was reconstructed for development of strategic tendency.
PERSONAL INFORMATION

Education: Moscow Institute of the Fine Chemical Technology Post-graduate study in the Institute «Synthesis beloc, PhD in the enzyme technology.
Career review:
1979-1987 — Moscow State University, Chemical faculty, department of chemical enzymology, Senior researcher;
1987-1988 — Institute of Biotechnology, Senior researcher;
1997-2001 — «Rosindustria» Industrial Group «Bioprocess-NIPEC», Deputy General Director;
1988-pr.t. — Holding Company «BIOPROCESS», Partner.
Participation in public organizations: Member of the Board of Directors and member of the Executive Committee of Women's World Banking, Member of the International Women's Forum, Member of the International Alliance of Women, Member of Consortium of Women's Non-governmental Associations, Chairman of the Russian Women' Microfinance Network, President of the Committee of 20.
Family: 2 daughters, 4 grandsons.
Hobbies: Literature.